Specification and description of the Atamate Mesh-3 ceiling sensor unit
Download a pdf of the Mesh-3 ceiling sensor Datasheet.
Overview
The highly innovated Atamate Surface Mount Ceiling Sensor Unit (SU) enables the local collection, processing and control of building services in a typical room. Data is transmitted to the Hub edge computer for further analysis and processing.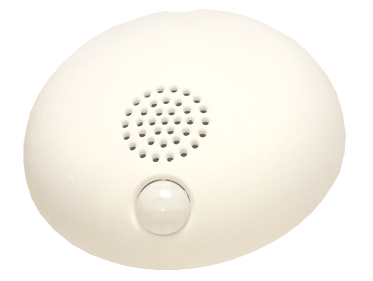 Sensors
A variety of sensors can be included depending on need.
Typically these include:
Temperature (local air)
Thermopile (local wall temperature)
Carbon Dioxide
Humidity
Volatile Organic Compounds (VOC)
Noise level
Vibration
Ambient light.
Processing
The SU includes a Nordic BluetoothTM 5 Processor that enables processing. This enables basic room controls including:
Local light switch control of lights
Local temperature controller to connected heater/cooler • Local window controller to connected window motor
Shading controller to connected blinds/shutters.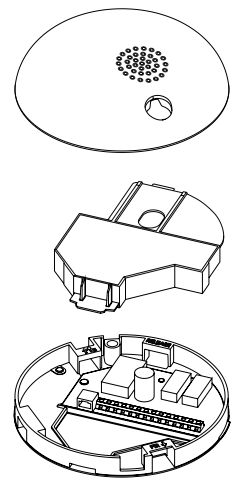 Outputs
The SU has a number of possible outputs that can be included depending on need:
2No 16Amp 250Vac relays
(Other relays can be supplied if required)
20mm fuse for local supply to relay outputs
Speaker
Up to 6No Digital inputs and outputs (3.3Vds)
Serial communications outputs with a 3.3Vdc, 500mA supply - Modbus, I2C, Profibus. Specialist serial protocols on request.
• BluetoothMT (BLE & 5) compatible devices.
Installation information
The SU can be installed by a qualified electrician. The SU is either powered from a 100-250Vac supply or a POE connection from a local network switch (IEE 802.3af). The SU is in white plastic which is paintable.
Ceiling mounted in the corner of the room (ideally 1m x 1m from corner and PIR has a clear 'view' of the room).
Max room size - 9m x 9m.
Cable entry form the side or through the base of the unit.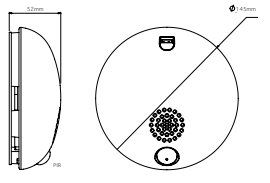 Environmental
Humidity: 10 to 90% RH
Temperature: 5 to 40 C
Water/dust protection: IP20.
The SU is part of an Atamate smart building installation. This is designed and commissioned by Atamate Partners.