Specification and description of the Atamate DMX gateway for installers
Download a pdf of the DMX gateway Datasheet here.
Description

DMX Gateway (DG) is an output device gateway for the Atamate home automation system. It receives messages from the Atamate controller and outputs a DMX512 network signal for controlling DMX units, normally used for lighting. The DG is powered by a POE (Power over Ethernet) connection which also provides communication to the rest of the Atamate system via the Home Area Network (HAN). Each DG is given an individual HAN network address using 2 HEX switches. On establishing communication with the Atamate system the DG is automatically configured by the Atamate controller and then communicates with explicit messages with automatic corruption/loss detection and resend.
There is 1 RJ45 socket/port on the DG with one DMX 'Universe' output. The DMX output is constantly repeated irrespective of any new messages being received by the DG. The output conforms to the DMX512 specification.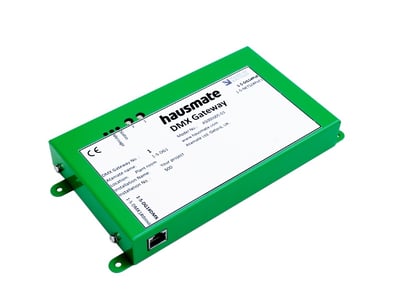 Connections
The DG has 2 connectors:
POE - this provides communication and power for the DG from a standard POE Ethernet switch (IEEE 802.3aF). RJ45 socket.
Socket 10 - DMX output on RJ45 connector pins 1 (data+) and 2 (data-). 0V on pins 7 and 8.
Hex Switches
The HEX switches are used to give the DG an IP address - in the range of F1 to FF (15 DGs). As the DG is on the HAN network - physically separate to the Local Area Network (LAN) and with a different subnet, this does not affect any IP addresses on the LAN.
Status LED's
Red: Off - no power
Red flashing: Flashing 1 Hz - looking for Atamate controller
Solid red - locked into Atamate controller
Blue: Flashes every time a message is sent
Amber: Not used/spare
Dimensions

Physical Dimensions: 225 x 125 x 35mm (WxHxD)

Storage: 0 to 40C, 10 - 95%RH non-condensing

Usage: 5 to 35C, 10 - 95%RH non-condensing